Helen's latest CPD adventure!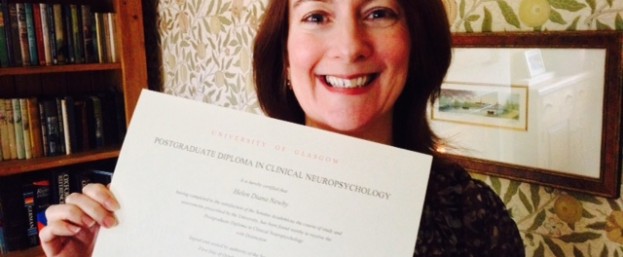 In late 2014, Helen's hard work over two years paid off when she achieved a Distinction grade for her Post Graduate Diploma in Clinical Neuropsychology. This programme is accredited by the British Psychological Society Division of Neuropsychology for fully qualified Clinical Psychologists registered with the Health Professions Council. Helen has now added this Post Graduate Diploma from the highly respected and nationally renowned College of Medical, Veterinary and Life Sciences at Glasgow University to her qualifications. Look out for "Pg. Dip. Clin. Neuropsych." on her CV!
The specialised programme encompassed a wide range of neurological conditions including traumatically acquired brain injury, stroke, dementias and epilepsy. She extended her knowledge in these areas and was fascinated by the new research exploring new medical treatments. For example, there are signs that stem-cell treatment could improve recovery after stroke http://bbc.in/1J2KitD and http://1.usa.gov/1BaNDmK.
At a clinical level, Helen has been able to extend to her existing practice. For example, for one client, introducing her to the Pyramid Model of Awareness helped her understand why others were "worrying about me too much". For another, we explored together the research on the cognitive effects, especially the impact on driving, of Obstructive Sleep Apnea. This helped him better engage in treatment.
Helen will be carrying forward what she has gained from the programme further in 2015. Watch out for news stories as the year progresses!